Pre-K, Elementary & Teen In-Person Yoga Teacher Trainings and Certification
CALMING KIDS trains adults to reach children and teens through mindfulness and yoga. Pre-school through High School age educators and health professionals will learn a non-violence and bully proofing program. Learn CK's evidence-based curriculum and implementation strategies to reduce bullying, and increase concentration, relaxation and self-regulation for students of all ages. Continuing education and certification offered.  Two to five day trainings available. Certification to become a children's yoga teacher available.
Please contact us if you would like to set up a specialized training for your school, school district, group or clinic. We will develop a training to meet your needs. Trainings can be held in any location. Past trainings have been held in CO, VA, MD, MO, PA, DE, Puerto Rico, Canada, China, Mexico and Israel.
https://calmingkids.org/teacher-certification
In-Service Workshops: 
CALMING KIDS provides stress-management workshops for schools, organizations, and associations. A perfect addition to a faculty meeting or staff development program, learn simple mindful techniques to implement in the classroom for calming, centering and self-regulation for student and teacher wellness. One to four hour trainings available.
In-Class Streaming Videos
These two to four minute brief videos can be streamed directly into any classroom for students to learn and experience yoga postures, breathing techniques, mindfulness, creative visualization and relaxation.
streamlearn.com/2016/06/21/calming-kids-in-class-films/
Online Teacher Training for Elementary Age Classrooms
Become a CK Educator with our online course. This course includes 5 hours of instructional videos on teaching kids' yoga in classrooms for relaxation, self-regulation and communication. A training manual with student handouts and homework is given as a resource. Special bonus: six adult online yoga classes for teacher health and stress management. Children's yoga teacher certification also available upon completion of student contact hours.
https://calmingkids.org/registration/online-training
CK for Kids and Teens
CALMING KIDS teaches yoga, breathing techniques, stress-management, and non-violent communication strategies to students directly. Programs can be implemented during the school day, as an after school program, summer camp or at a student club.
Nurture the Nurturer: Stress-Management for Educators
CK provides after-school yoga and stress-management programs for faculty and staff to unwind and rejuvenate after the school day. Self-care is vital to maintain well-being and balance in order for teachers to role model the skills for students. We offer one-off classes, or a class series, either through a school district or an individual school.
Enlightened Parenting Workshops or Private Classes
A seminar for parents and/or families to understand how to use the CALMING KIDS techniques at home. These sessions reinforce the skills which students and teachers are utilizing, and are taught privately or in groups.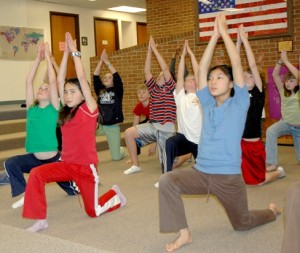 CALMING KIDS has taught in the following schools and programs:
Active Boulder Kids Preschool, Boulder, CO
Anderson Elementary, Allen, TX
Bangor High School, Bangor, MI
Boulder Community School of Integrated Studies, Boulder, CO
Boulder High School, Boulder, CO
Centaurus High School, Lafayette, CO
Children's Alley Preschool, Boulder, CO
City of Boulder Parks and Recreation, Boulder, CO
Colorow Elementary, Littleton, CO
Columbine Elementary, Boulder, CO
Country Day School, McLean, VA
Covert Elementary and High School, Covert, MI
Creekside Elementary, Boulder, CO
Crest View Elementary, Boulder, CO
CU Children's Center, Boulder, CO
Emerald Elementary, Broomfield, CO
Entreamigos, San Pancho, Mexico
Family Learning Center, Boulder, CO
---
Flagstaff Academy, Longmont, CO
Friends School, Boulder, CO
Graland Country Day, Denver, CO
Gust Elementary, Denver, CO
Heartland Childcare Center, Chesterland, OH
---
Heatherwood Elementary, Boulder, CO
Hutchinson Elementary, Lakewood, CO
Justice High School, Lafayette, CO
Lafayette Explorers Preschool, Lafayette, CO
Longs Peak Middle School, Longmont, CO
---
Lyndhurst Childhood Enrichment Center, Lyndhurst, OH
Mattawan Middle School, Mattawan, MI
Mountain Shadows Montessori, Boulder, CO
Mountain View Elementary, Longmont, CO
New Vista High School, Boulder, CO
Niwot Elementary, Niwot, CO
Patterson International Elementary, Lakewood, CO
Paw Paw High School, Paw Paw, MI
Pioneers Baccalaureate School, Nablus, Palestine
Red Hawk Elementary, Eerie, CO
Rocky Mountain Elementary, Longmont, CO
Sabin World School, Denver, CO
Shiloh House, Longmont, CO
Skyline High School, Longmont, CO
Skyview Elementary, Windsor, CO
Southern Hills Middle School, Boulder, CO
Stourbridge Primary Center, Honesdale, PA
Summit Middle School, Boulder, CO
Sunset Middle School, Longmont, CO
University of Colorado at Boulder, CO
Wallenpaupack Middle & High School, Wallenpaupack, PA
Wayne Highland Middle & High School, Honesdale, PA
West Jefferson Elementary, Conifer, CO
Western Wayne Middle and High School, Lake Ariel, PA
Westminster Presbyterian Preschool, Alexandria, VA
---
Wheatridge Elementary, Littleton, CO
Whittier International Elementary, Boulder, CO
Wild Plum Center, Longmont, CO
YMCA Inspire Preschool, Longmont, CO