---



"It was the best workshop I've ever taken."–Teacher, St. Vrain School District, Longmont, CO

"Thanks for teaching me how to take a moment and allow myself to hear my breathing." – High School Student, BVSD, Boulder, CO

"The atmosphere in the classroom after yoga is more peaceful."–Teacher, BVSD, Boulder, CO

"Thanks to you I have started doing yoga on the weekends and I LOVE it!"–High School Student, BVSD, Boulder, CO

"I have personally benefited from the six sessions of yoga and so have my students. Their focus is so much better ..."–Teacher, BVSD, Boulder, CO

"Thank you for teaching us different methods to cope with stress and self care."–High School Student, BVSD, Boulder, CO

"I feel that it has made a difference in our school community and climate with our 4th and 5th graders..." – Principal, BVSD Boulder, CO

"I truly believe it was magical! I feel totally enlightened by the whole experience."– Art & PE Teacher, Longmont, CO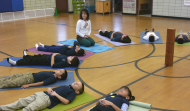 ONLINE TRAINING:
Complete the course on your own schedule. This online course will prepare you to deliver the Calming Kids curriculum to your students immediately!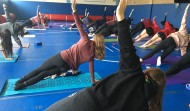 CK LIVE TRAININGS:
CALMING KIDS will be found in different areas of the country or abroad. Click on the image above to keep abreast of our latest training dates.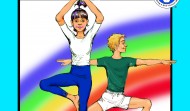 CK STORE:
A variety of products are available to support teaching, learning and finding the joys of yoga.
---