Kids yoga teacher training for all teachers and instructors PLEASE use the free syllabus HERE guiding you through the proper method to present a 6 Day Yoga program to your Kindergarten or Elementary School classroom ensuring these proven outcomes:
Kids Yoga Enhances Confidence
Kids Yoga Improves Concentration and Focus
Kids Yoga Helps Kids Manage Stress Through Breathing
Kids Yoga Promotes Inclusivity
Kids Yoga Introduces Kids to Mindfulness
Kids Yoga Promotes a Healthy Body
Kids Yoga Improves Coordination & Balance
Classroom Yoga ~ a solution to school violence and
it works!
Day One – What is Yoga?
The Balance of Body and Mind
Day Two – How Do You Breathe?
Practices to Regulate the Breath 
The students start to understand that the connection of the body to the mind is their breath.
Day Three – How Do You Feel?
Checking in: emotional awareness, communication and anti-bullying
Day Four – Community 
Finding Our Heart 
Day Five – Why Exercise?
The Benefits of Exercise

Day Six – Relationships 
Anti-Bullying – Relationship Games – Bring It All Together
Starting with movement and mindfulness is a great way to start each day!!
---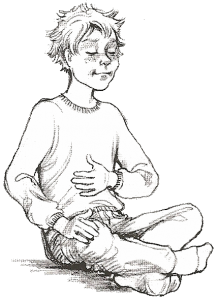 Allowing 10-15 mins at the start of every day for centering will increase focus, social emotional balance, and positive communication skills.
The CALMING KIDS (CK) Six Day On-Line Kids Yoga Teacher Training Lesson Plans includes:
Handouts illustrating all the concepts presented with coloring pages, activity ideas and songs. 

Scripts with non-violent communication models for the play acting scenarios.

A discussion forum with thought provoking questions and insights shared by other teachers.

An easy quiz at the end of each module of learning to review what you have learned.

Open access to the online site for reference and to enhance your capacity to teach mindfulness and non-violent education to elementary age students.
Share