Kids yoga teacher training for all teachers and instructors PLEASE use the following syllabus guiding you through the proper method to present a 6 Day Yoga program to your Kindergarten or Elementary School classroom ensuring these proven outcomes:
Kids Yoga Enhances Confidence
Kids Yoga Improves Concentration and Focus
Kids Yoga Helps Kids Manage Stress Through Breathing
Kids Yoga Promotes Inclusivity
Kids Yoga Introduces Kids to Mindfulness
Kids Yoga Promotes a Healthy Body
Kids Yoga Improves Coordination & Balance
Classroom Yoga ~ a solution to school violence and
it works!
Day One – What is Yoga?
The Balance of Body and Mind
Gather the kids into a circle and seated on the floor, ask: What is yoga? By beginning your presentation to the children with an explanation of the purpose of doing Yoga, you open their minds and begin the discussion regarding the benefits of yoga. This gives a foundational knowledge and they will be eager to learn what is next. The Day One, online training video gives a concrete image for the students to understand these concepts and get excited to learn more.
Game Plan: Here's where the fun begins:
Begin with the CALMING KIDS Opening Pledge or a Namaste song, depending on the ages of your students. CK has some Namaste songs found in our "Songs & Pledges" booklet and soundtrack, or the CK Opening Pledge can be recited to engage the kids as we begin to unify the classroom.
Stand everybody up and begin some yoga balancing poses.You will then begin positions or exercises to limber, ground, strengthen and stretch the body. At the end of the movement session, you finish with the floor or seated relaxing stretches.
Explain that the yoga system gives us ways to come into balance.
The complete CALMING KIDS program for school classrooms includes videos of children and teens explaining how to help all aged students with mindfulness, movement, and body and breath awareness.
Our booklets "YOGA KEEPS ME Calm, Fit & Focused" and "YOGA KEEPS ME Feeling Just Right" demonstrate both easy and more difficult positions to practice balance.  The simple movement routines that you can all do together each day will calm the community and strengthen the connection in the classroom.
[From here, you would continue with your regularly scheduled classroom curriculum.]
At the close of each day, a quiet moment is taken and you all recite together the Closing Pledge: 
With great respect and love, I honor my heart, my inner teacher.
Day Two – How Do You Breathe?
Practices to Regulate the Breath 
Begin the day with the CK Opening Pledge or a Namaste song.
CALMING KIDS breathing videos explore the proper mechanics of breathing. Within the online training, simple visuals are explained as a way to convey breathing mechanics using various props and interactive skits. Age appropriate explanations of breathing correctly and the importance of good breathing are included because the breath connects the body and mind. Students enjoy this concept and they can be playful as they learn the breathing techniques which are also illustrated in our program booklets and our manual handouts.   
Basic Breath Training

Breathing Questions

Breathing Diagrams

Diaphragm Activity

Breathing for Self Regulation

Calming Breathing Techniques

Lion's Breath 

Bees

Hum

Rabbit Breath

Snake Breath

Alternate Nostril Breathing
Preschool, kindergarten and young elementary aged children love the CK "Body Awareness Tunes" downloadable from our website store. This keeps the momentum going and the learning fun. We have songs to move with and follow along called "Breathing," "Two Little Holes," "Belly Button" and "The Walk Song" among others. Then students lay down quietly so they can listen to their breathing and feel the Hum inside.
The CALMING KIDS music from our "Songs and Pledges" list includes, "The Sun Salutation Song" and "A Circle Dance." Both offer ways to increase the respiration rate and breath awareness. If time permits, you can repeat some of the yoga asanas (postures) you practiced on Day One – focus the students' attention on their breathing during this session and for all sessions from now on. Notice that they get a little better implementing the breathing with some of the standing still asanas (postures).
Next, take 2 – 3 minutes to sit or lie down to rest the body and become mindful of rhythmic breathing. "The Sleep Poem" from "Songs and Pledges" is great to recite to help their inward focus. 
The students start to understand that the connection of the body to the mind is their breath.
[As you return to the school curriculum, if you see some 'fidgeting' going on, mention a mindful breathing practice and have them practice it on the spot.]
At the close of each day, a quiet moment is taken and you all recite together the Closing Pledge: 
With great respect and love, I honor my heart, my inner teacher.
Day Three – How Do You Feel?
Checking in: emotional awareness, communication and anti-bullying
Begin the day with the CK Opening Pledge or a Namaste song.
Seated in a circle on the floor or at their desks, get students' feedback by asking them: 
"What do you remember from what you have learned so far in yoga?"
"Have any of you started to be mindful of your breathing outside of class?"
"Has thinking about your breathing helped you control your energy, mood, or sleep?"

Then we listen to their answers and smile.
Then ask them if anyone has ever been bullied. Have them describe the situation and how they handled it. Discuss some of the bullying that the students see in the world and the feelings they experience around bullying behavior. Tell them about a time you were bullied and how you dealt with it.
Then, set up some anti-bullying role playing to help students learn effective communication and to help empower them for the rest of their lives. They can create the scripts based on their imagination, or they can use the bullying stories the kids have previously revealed. Or you could use the CALMING KIDS scripts which were created for us by elementary aged students, found within Day Three of the CK Online Teacher Training.
Print out copies for each of the actors involved, to read and play out the scenario. Skits and Role-Playing offer the kids a chance to learn together as a team. Once a skit is performed, the audience (other students) can suggest a good plan of action to solve the negative encounter. Remind them to use a strong grounded stance, speak with confidence, and take time to breathe.
The CK videos for role-playing within our online training are performed by The Rocky Mountain Theater for Kids. Bullying encounters happen in: The Lunchroom, On The Bus, On The Playground, In a Classroom, etc. These videos include confrontations with other students, with an adult, or self-bullying. Instruction is given on how to approach communication in a calm, centered, confident manner, with self awareness and compassion, as well as guidance for when it is important to ask for help.
[Before returning to the regular school curriculum, give a homework assignment: Teach anyone in the family something you have learned this week.]
Yoga Postures

Breath Awareness

Concentration Practices

Peaceful Communication Strategies 
At the close of each day, a quiet moment is taken and you all recite together the Closing Pledge: 
With great respect and love, I honor my heart, my inner teacher.
[Here's Naomi, a Calming Kids Yoga Teacher with a personal comment about A Chakra Guide Book]
Day Four – Community 
Finding Our Heart 
Begin the day with the CK Opening Pledge or a Namaste song.
Next, Check In with how the students are feeling on this day. It is OK for a child not to say anything and not participate. Then, discuss the homework assignment to discover who has been 'taking in' the concepts and passing this knowledge on to their friends or families.
Day Four videos within the online training include 'Inner Light Introduction' in order to teach the concept of caring and compassion.
In order to keep it very child friendly and understandable, CALMING KIDS presents our connection to ourselves and our community as the word picture: Our Heart's Inner Light.
We use metaphors and similes to describe the inner connectedness we have with ourselves and others in order to find connection and compassion. 
It's a great day to do teamwork activities. Circle dancing can be effective. CK has created choreography to music found on the "Playful Yoga" soundtrack. 
If you choose to repeat the standing and floor poses, begin to hold the poses longer than before. Encourage students to, "Hold this position and take 4 – 6 deep breaths." Do this in order to deepen the students' inward focus and connection to the feelings in their body and the feeling of their breath.
A wonderful concentration practice at this stage can be eye exercises in order to strengthen, stretch and ultimately tire the eyes from looking outward. Then, close the eyes and direct the attention inward with a guided journey or inward visualization. Our Inner Light is a metaphor: the sun, a candle, or a flashlight can be used.
"We all have this light within. This light connects us to each other."
Guide the children in a way that helps them understand that the light within each of them resonates in their heart and mind. And that light is important enough to respect in each other.
At the close of each day, a quiet moment is taken and you all recite together the Closing Pledge: 
With great respect and love, I honor my heart, my inner teacher.
Day Five – Why Exercise?
The Benefits of Exercise
Begin the day with the CK Opening Pledge or a Namaste song.
Check in: Get feedback from the class as to any changes in their lives due to what they have been learning. How or when have they been able to use the breathing or respectful compassion?
Day 5 is about moving the kids smoothly though the 'asanas' and "Vinyasanas" (series of poses). 
Guide them through the poses and encourage them to focus on their breathing while holding difficult poses. Practice moving poses, standing asanas, and floor asanas or seated positions for 20 – 30 minutes.

There are CK supplemental kids yoga videos of children and teens practicing yoga which guide the class as they watch the postures and follow the routines.
While the students hold the asanas for a few moments, take them on a mental journey that brings  joy and peacefulness, and the remainder of the school day can go more smoothly.  
NOTE: If this routine (Opening pledge/song followed by the Vinyasanas) is regularly followed daily within a school curriculum, the results can be astounding. See the research results found on our website: calmingkids.org-StudyResults
Have a discussion at the end regarding the benefits of yoga. Explain how yoga has a multitude of benefits: not only can it improve flexibility, strength, balance, and stamina, it also reduces anxiety and stress, improves mental clarity, and even helps one to sleep better. When done regularly, it can help them to focus on their homework, and control their thoughts & feelings. The power of strengthening their inner core as well as their outer physical bodies while having an awareness of the breath allows for improved personal connection and communication. 
[At least 80% of the class will develop a new mindset from the program at this point.]
At the close of each day, a quiet moment is taken and you all recite together the Closing Pledge: 
With great respect and love, I honor my heart, my inner teacher.
Day Six – Relationships 
Anti-Bullying – Relationship Games – Bring It All Together
Begin the day with the CK Opening Pledge or a Namaste song.
Ask the question: "Who has been sharing the yoga information and concepts with their friends or families?"
"Has there been a time when you have personally used a CK yoga technique to help shift any situation?"
Once you hear what students report, then you can decide which area of the yoga practices need more attention. Review any specific concepts that you have presented over the past few weeks with an open discussion in order for students to understand how important it is to use these ideas within our lives: The yoga exercises help us to come into balance in our bodies and minds and breathe better. Good breathing allows us to focus our mind and balance our emotions. When we feel balanced we can communicate better and our relationships improve. With practice, we can deflate any negative confrontation.
Find a comfortable movement routine that your students respond to positively that can be done daily. Our CALMING KIDS supplemental videos include a simple range of motion sequence called the "AM Wake-Up" which can be done seated or standing.
Follow the exercise routine you have chosen with a mindfulness, reflection and relaxation session. The CALMING KIDS little book "Finding Calm in a Moment" has relaxation, creative visualization and mindful practices to read to your students. This book gives ideas on how to instruct the meditation.
Starting with movement and mindfulness is a great way to start each day!!
[As you return to the regular school curriculum, give the lifelong assignment: Teach your family and friends these yoga, mindfulness and communication skills. Share the tools that help you to calm down, self regulate and balance your mental health. Someday you may help someone in serious need.]
At the close of each day, a quiet moment is taken and you all recite together the Closing Pledge: 
With great respect and love, I honor my heart, my inner teacher.
---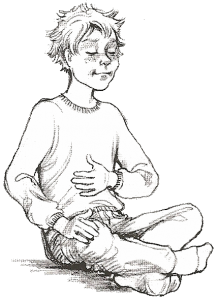 Allowing 10-15 mins at the start of every day for this type of centering will increase focus, social emotional balance, and positive communication skills.
The CALMING KIDS (CK) Six Day On-Line Kids Yoga Teacher Training Lesson Plans includes:
Handouts illustrating all the concepts presented with coloring pages, activity ideas and songs. 

Scripts with non-violent communication models for the play acting scenarios.

A discussion forum with thought provoking questions and insights shared by other teachers.

An easy quiz at the end of each module of learning to review what you have learned.

Open access to the online site for reference and to enhance your capacity to teach mindfulness and non-violent education to elementary age students.
Share